We answer these questions and give you expert advice from official sources.
We've done the research so you don't have to (with links to said official sources - we like to be thorough!)
No matter what you buy, where you buy it, whether it's from China, Europe or the United States -- there is no absolute 100% guarantee that it hasn't been handled by someone who is sick.
But all hope is not lost; there are precautions you can take to protect your health and those of your loved ones and still get to enjoy the hobby you love.
First, the question you should ask is "who is handling my packages?"
Most packages ordered from Eco Food Tray originate from Yiwu, China - very widely known for its bustling manufacturing industries and global trade fairs.
Because it is such an important economic hub for China's economy, authorities were particularly strict about containing the virus spread in this region.
In the last month, there has been zero cases in the province and heightened measures are in place to keep it that way.
What does this mean: The odds of a person who is infected with COVID-19 handling your package are practically non-existent.
Our manufacturing partners have been very transparent about the situation and we are constantly monitoring the situation at all times. HOWEVER when the package passes on to your local couriers... it's out of our hands, unfortunately.
If a person handling a package is sick, could the virus transmit to the package itself?
COVID-19 or (also SARS-CoV-2) can not survive long on packages and other inorganic material.
A clinical research study1 which tested how well the virus survives on different surfaces, found no trace of the virus after:
24 hours on cardboard
72 hours on plastic and stainless steel
Further, the WHO (World Health Organization) and CDC (Center for Disease Control in America) have reported that it is safe to send and receive packages2.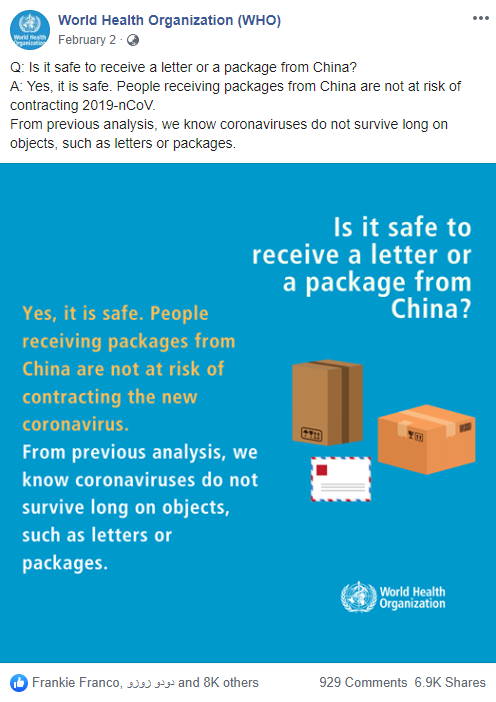 Official Facebook post from the WHO. Clicking the image goes to the Facebook post.
In conclusion, even in the worst case scenario where an infected person is handling goods to be mailed, it is not possible for the virus to survive the journey.
However, according to an online publication by health.com3, there is still a chance a healthy person can be infected by a sick person delivering their mail (your local courier).
This risk is mitigated so long as there is no direct and a healthy distance is maintained. Keep reading below for more tips on how to stay safe when handling goods delivered to you.
How does the outbreak affect delivery of packages?
Due To  COVID -19 Most orders are delivered within 15-45 business days! 
All orders will be fulfilled on time!
However, logistics and postal delays of up to 2 weeks are normal for all countries we deliver to.
This delay may become more significant in the coming days as demand ramps up and courier services prioritize the delivery of "life-essential" goods such as groceries, sanitary and medical products.
However, rest assured the team at Eco Food Tray is always ready to assist you at any time.
We are deeply grateful to all our customers for sticking with us. 
Here is an estimate of the shipping times: 
All items in store take 2 – 5 business days to process.  Please add processing time to your shipping estimate above.
Please note: We will not refund orders placed during this time that request refunds due to this shipment delay due to the fact that the packages are processed and shipped to the carrier preparing for resuming of their services. Once your order is processed, we can't edit, alter, or cancel your order in anyway.
IMPORTANT: We are not responsible if a package is undeliverable because of missing, incomplete, or incorrect destination information. 
Sources:
1. New England Journal of Medicine.
https://www.medrxiv.org/content/10.1101/2020.03.09.20033217v1.full.pdf
2. WHO Official website.
https://www.who.int/news-room/q-a-detail/q-a-coronaviruses
3. Health.com article.
https://www.health.com/condition/infectious-diseases/coronavirus/can-the-coronavirus-spread-through-mail